Meetings where you truly feel together
What if there was a better way to meet with your team? A way that makes you feel closer even when you are far away. MeetinVR puts virtual and reality on the same level so you can make your team meetings more productive and personal than ever.

Natural life-like interaction
It's time to say goodbye to video calls which make us feel like worlds apart. MeetinVR provides you a place where you can shake hands, use body language and 3D audio to truly experience being together even if you are in different countries.

Presentations and brainstorming sessions
Want to quickly catch-up with a colleague or to have a planning session with your team? MeetinVR offers you as many open meetings rooms as you want, as well as the possibility to schedule meetings in advance.

Super
powers
VR offers you the possibility to enhance reality and have productive super-powers. Make sketches in 3D space, and place media files in mid air. Use your creativity to create three-dimensional mind maps for your team and customer meetings.
Whether it is team meetings or customer meetings,
MeetinVR gives you the ability to WOW.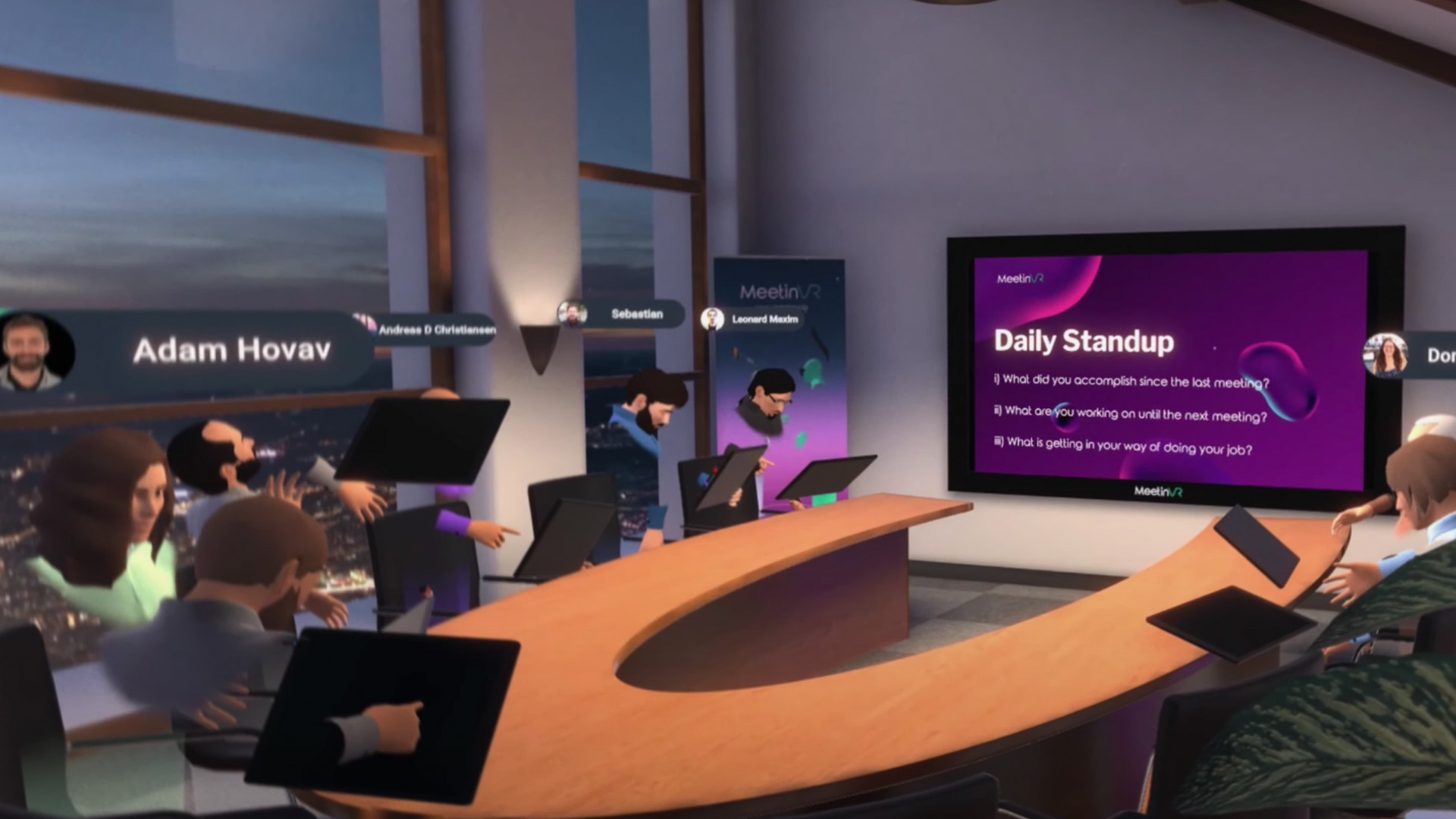 Team meetings
MeetinVR brings extra productivity to your team while bringing it closer together as if you were face-to-face, even if you are continents apart.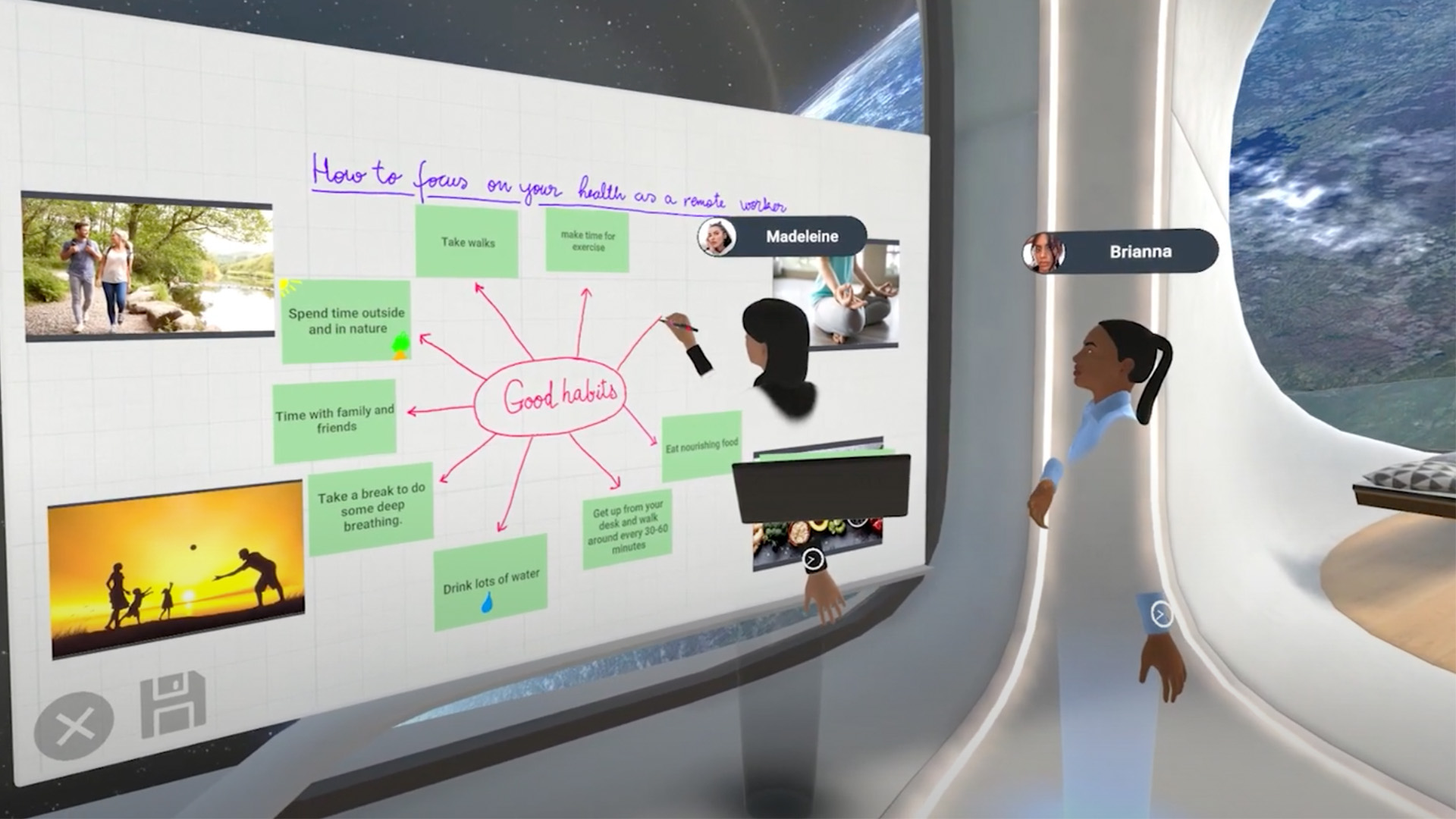 Customer meetings
Everything from product demos to stakeholder pitches, technical sales meetings revolving around presentations, videos or 3D content.
Work in ways you never thought possible, more productive and engaging than ever.

Conference room is perfect for making stand-up meetings, presentations and reviews. Get together with up to 12 people from your team and make your meetings more interactive than ever.

Powerful meetings with powerful tools where the rules of physics do not exist and you are the owner of the creativity that goes around you.

The attention in the focus room is entirely on what everybody has to say. Discuss strategic plans with your team, use your tablet to share your media files, and so much more!

Write whatever comes to your mind thanks to the notes you will find on your tablet. You can share them with your team, put them on the whiteboard or just throw them away when you don't want them anymore.

Write your notes just by saying them out loud, just like on your phone.

A room like you've never seen before. A huge screen where the speaker can make his presentations in front of up to 32 people sitting in the audience.

The magic pointer makes your sessions more productive than ever, pointing to any files in the room so everyone can follow your presentation or even interact with objects.

No need to travel to have an in person experience with MeetinVR's unique gestures.

A new reality design to make your meetings better than ever, where you can teleport to anywhere by just wearing your headset.
Experiments with VR have shown the following

11% increased sense
of belonging
Our seemingly rational decisions are fundamentally emotional and hence, it matters that subjects experience a stronger sense of belonging in VR than during video conferencing.

25% higher
focus
There is no point in spending days preparing a meeting if your customer is not ready to take in the information. With fewer distractions, VR meetings improves attendee focus by 24% over video.

34% more motivation
to socialise vs. video
You want your customers to feel at ease, whether they are naturally outgoing or more introverted, VR has shown significant advantages over video in this area.
Let's talk and get you started with MeetinVR!
MeetinVR is the next generation of sales enablement for your high-end pitches, teleporting your prospects to your virtual reality instead of boring them with another video call.