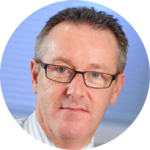 Dave Millner is an Occupational Psychologist with nearly 30 years of HR and consulting experience working across the world with global clients on their assessment/performance, employee engagement and organizational development based challenges. Dave has a real passion regarding the transformation of HR functions and the need for a more commercially focused response to client demands and the role that analytics and new ways of thinking can help to change the perceptions of HR. His first book 'Introduction to People Analytics' focuses on the changing role of HR and the increasing demand for data insights, and is available since April 2020. Dave Millner can be reached at HRCurator or on Twitter. This article is part of our ongoing "Future of Work" series, available on Youtube and here on our blog.
The HR practitioner of the future has an amazing opportunity to influence the way organisations operate as the digital world of work continues to grow, and the human implications of the pandemic hopefully become clearer over time. The impact of HR during the pandemic in terms of communication, resourcing and supporting management has played to our historic skills. However, with the change that the crisis has brought us, now is the time to drive new expectations of the people function. From my research spanning over 10 years, these are driven by six key themes that will create the people function of the future. Let's explore each of these areas.
Technology Integrator
HR technology will be a crucial enabler for the people function moving forward, in terms of defining and supporting new technology-based process design. There will be a need to provide a clear focus on efficiency, effectiveness and engagement throughout all the people practices. This will be increasingly relevant as the continued automation of efficient 24/7 talent and people practices continues to advance at speed, for example using chatbots. Underpinning this will be the change management process as digital based transformations will be ongoing and will require HR practitioners to be able to master these transitions as a part of the change.
As a result of this the HR practitioner of the future needs to
Have a greater understanding regarding what is happening in the whole area of technology; this is about what developments are coming HR's way and the impact they can have upon the workforce's capability to deliver to their customers

Become more involved in technology and see what it can enable the people function to achieve in terms of business outcomes and data-based insights

Develop their digital related capabilities through pilots or user testing new technologies that will enable them to learn through first-hand experience as to how to use the technology and offer pragmatic feedback. This will also ensure that they understand what the user experience is like when using HR technologies as they will start to shape

employees' changed perceptions

about the people function as whole.
Technology in the HR industry is changing the way traditional people-based policies and practices are being carried out. That means all practitioners must understand how these technologies enable the function to focus on those 'added value' practices that deliver greater value at an enterprise level.
Talent Practices Enabler
HR needs to continue to attract, retain, develop and maximise the performance of the organisation's talent at all levels. At the heart of the challenge is the need to obtain and demonstrate "value for money" and it's important to remember that the majority of roles in an organisation are undertaken by solid and competent performers, not necessarily the organisation's superstars or high potentials. The rise of automation is raising expectations about what technology can do to improve and enhance most elements of the employee life cycle. However, there do seem to be four key fundamental practices which seem to be at the heart of a solid and differentiating talent management strategy, namely:
Recruitment, selection, assessment and feedback: It remains crucial to generate objective data about an individual's capability that allows the organisation to both understand the strengths of that employee but also to better differentiate their investment by focusing on those elements that add the greatest value to the organisation.
Performance dialogue: The need to connect with the employee becomes really important as dialogue opportunities become under even more work pressure than ever before with remote working. The ability to improve an individuals' contribution to the business through mutual goal setting, coaching/feedback and reviews remain a vital part of everyone's responsibility and drives the workforce's experience at work, their level of engagement with what they are being asked to do and their commitment to the organisation's purpose.
Learning, development and coaching: Underpinning the employee experience raises the opportunity to improve an individuals' capabilities and behaviours so that they are able to increase their performance. The personalisation of learning, through technology, is vital to ensuring that the employee takes as much responsibility for their development as the organisation does with the provision of personalised solutions such as videos, blogs etc. that are 'bite sized' and highly relevant to job performance.
Talent planning: As the speed of disruption increases, the ability to be able to have a clear and focused understanding of the organisation's talent becomes more crucial. This is about looking at both future business critical roles, succession planning, and also having a clear appreciation of the resourcing demands of an organisation over a six to twelve-month period through workforce planning. Both are challenging to execute but with more reliable and relevant data this can change.
As a result of this the HR practitioner needs to:
Be able to clearly identify the expected business outcomes of any talent management process

Challenge the business to ensure that there are clear lines of accountability across all levels of the organisation. This is not only about employees and leaders taking greater responsibility but ensuring that these practices are adopted and reviewed critically, with data to ensure that business impact is being realised

Ensure there are clear lines of ownership from the business for the expected business outcomes that the practices should drive. Talent management after all exists to solve business problems

Retain a balance between simplicity and complexity when designing talent practices; it's all about obtaining leaders and management's "buy in" and developing their ability to implement the solutions.

Ensure there is an expectation to measure the ROI of the talent practice and their role in identifying and collecting data that can subsequently be used to assess the viability of the process.

Ensure that the business always focuses on the best rather than just "making do"; the importance of standards is crucial to driving performance from the workforce.
Educator and Coach
If you're an experienced HR practitioner, you probably think coaching is just another name for what you've already been doing for years, namely helping managers and leaders increase their capabilities and knowledge in dealing with people-based issues and requirements. This support will remain a vital element to help executives, leaders and managers achieve their potential in their organisational leadership-based role. The ongoing speed of change in the people practices and the advent of more technology means that the coaching role will take on an increased importance to ensure that the investments made in technological infra-structure are both understood and implemented effectively by the management and leadership teams; technology will only do so much, it still needs the leaders and managers to communicate with and support their workforce.
As a result of this the HR practitioner needs to:
Be able to address the people-based issues and opportunities that occur as well as drive a more detailed understanding about how a leader or manager could improve their performance by reflecting on their approaches and methods in the workplace.

Give direction, guidance and support to leaders and managers, some of whom will be more senior and perceived to have more experience than the practitioner.

Facilitate the conversations with tact and credibility to ensure that the underlying messages are clearly understood by the coachee.

Motivate leaders and managers to take personal action by creating compelling stories and messages that convince them to make changes in the way they operate.

Generate a climate of collaboration, where perceived barriers are broken down so that there is a clear agenda focused on improving business performance.

Ensure that they are commercially credible from a business point of view as well as being up to date in terms of talent management/HR domain knowledge.
Culture and Employee Experience Facilitator
The key to this is for HR to focus on attaining new and more demanding deliverables by creating and shaping a new roadmap. The challenge for HR is to find those business opportunities and turn them into new ways of operating driven by new mind-sets across the profession that focus as much on the commercial elements as much as the people solutions.
Employee Experience will have significant implications upon the way in which people practices are designed and implemented in the future. Employee experience relates to the perceptions and feelings of the employees towards their job experience at work whereas employee engagement is about the perceptions and feelings of the employees towards their organisation. This will only become more important as the implications of a hybrid workforce (remote working/working from home and working from the office) unfold. Wherever the location is based, it's about providing every employee with those moments that make them feel valued, supported and able to realise their potential. To ensure that these elements are aligned and suitably prioritised, it requires a culture where leaders and managers alike put themselves in the employees' shoes.
That means that the HR practitioner of the future will need to:
Challenge leaders if existing practices, procedures and methods are constraining performance

Facilitate with their leaders culture-based challenges and changes, especially if the hybrid working model is sustained into next year

Realign current HR offerings to cater for future workforce experience needs, again driven by 'life after the pandemic'

Facilitate dialogue with and between people so that they can all contribute fully to research, design and delivery methods that need to be adopted to understand what the Employee Experience could look like in their organisation (for example, facilitating Design Thinking type sessions)
Design and Productivity Architect
Low productivity is a persistent global workplace issue. Whether it is a "productivity gap" or a "productivity puzzle", the issue remains the same. A measure of productivity is the efficiency of an employee, a machine, a factory or a business unit or indeed a process-based system that converts inputs into useful outputs. As people are the main resources involved here alongside automation, the HR function needs to focus far more time on this business challenge. That means the HR practitioner of the future will need to:
Examine productivity data to understand the issues and challenges that exist.

Work with leaders and managers to understand how business and people-based insights can be brought together to create a better more aligned solution.

Review education and learning programmes to ensure that employees and managers are able to understand how to identify productivity and process issues before they become a crisis.

Ensure that technology improvements truly maximise and enable improved productivity outputs.

Undertake organisational and job design methodologies to identify workflow improvement opportunities.

Utilise data to help understand how productivity changes in terms of different work settings (office vs. home based) and in terms of different performance trends such as maximising productivity efficiency timings can drive improved organisational performance.
Data and Analytics Translator
Data and analytics are at the heart of the new digital world of work. That does not mean that I'm trying to convert every practitioner into a statistical genius; far from it. What I do promote is that the HR practitioner of the future needs to be more numerate and be able to explore data and information to elicit insights that might not normally have been identified. Being more numerate though, is based upon a foundation of having a commercial mindset and thinking like a business leader in terms of ensuring that everything that is done has an impact upon the bottom line or for public sector organisations, impacts upon the purpose and efficiency of the services being provided. The translator role emerged from McKinsey observations as more organisations explored technology, data and analytics in various large transformational projects and found that the data scientist role, the number cruncher, may not always be the right person to interact with the business.
The analytics translator role is about:
Focusing on their domain knowledge (HR, Talent Management and L&D) and using data to help business leaders identify and prioritise their business problems, based upon which will create the highest value and impact when solved

Being comfortable with building and presenting reports and use cases

Collaborating well with technical (analytics and statistics-based people) and senior management teams.

Managing projects, milestones and dependencies

Being able to translate analysis and conclusions into compelling stories and actionable recommendations for management to take forward

Being comfortable with data, metrics, measurements, analytical processes and prioritisation
There we have it: the people function is facing some of the most exciting challenges it has had to face for some time and for the practitioners in HR and the Learning and Development functions, the time to shine is here – it's over to you now!
MeetinVR's take: The workforce is moving to a hybrid model of face to face and remote work, oriented towards flexibility and ensuring good work-life balance. HR practitioners must think about these 6 dimensions as they adapt to the changing environment in order to foster a healthy remote working culture. Today's increasingly remote workforce needs to be equipped with the right tools that allow them to do their best work, all while feeling connected to their team. Willing to leverage VR and enhance collaboration abilities of your team? Sign up for a free 30-day trial and meet in VR.