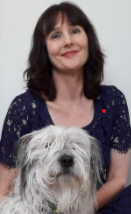 Dr. Kathryn Owler is a passionate 'Happiness at Work' researcher, author, and coach, who has dedicated the last 10 years to helping people experience fun, satisfaction, and joy at work. She is currently the director of The Happiness at Work Coach – where she coaches people through her signature 'Practical Approach to Happiness at Work' (6-week program). Kathryn can be reached at [email protected] or www.happinessatworkcoach.com.
Kathryn is pictured here with her favorite' work from home' colleague, Pania
Remote work is here to stay!
In the U.S., 61 percent of employees are now working remotely full time. However, remote work was increasingly common prior to the onset of COVID-19; indeed, between 2005 to 2017, there was a 159% increase in remote work. Because remote work is here to stay, it is vital that we learn to 'do remote work well!' 
Remote work is both good and bad for us. International research cites the top advantages of remote work as eliminating commute time, saving money, and improved work-life balance. However, top challenges include building relationships with colleagues, increased feelings of loneliness or isolation, and not being aware of what others are working on. Given the pros and cons of working from home, only 12% of workers said they intend to return to working exclusively from an office, while an overwhelming 72% wanted a combination of office and remote work. 
If we are to work remotely, it would therefore seem best to combine the best of both worlds! That is, take the good things from remote work and emulate, as much as possible, the good things about office work. We might start by asking ourselves:
What are the things we love about working from home? How can we best continue to enjoy these in our remote work environment?

What are the things we loved about office work? How might we try to create something similar in our remote work situation?
The difficult aspects of remote work are often social. There are three layers of social interaction – ranging from superficial to deep – that I recommend that people think about when considering remote work. All three are crucial for good mental and social wellbeing. 
1. Incidental interactions
Incidental interactions are generally unplanned and happen when we are doing something else. For instance, as we arrive at the office on a Monday morning, we turn on our computer and at the same time, chat with our colleague about our weekend. Or, early to a meeting, a few of us discuss how our day is going. Incidental interactions are generally superficial and therefore safe. They are also crucial. Incidental interactions help to give us a sense of belonging and mitigate against loneliness.

It is essential that we find ways to have incidental interactions during our day of remote work. We might go for a walk to break our day and wave at the neighbor or pop to the store and chat with the attendant. We can also generate incidental interactions in our work through informal open chat functions with colleagues, meeting times scheduled purely for social catchups, and fun remote social events where no (or little) work chat is allowed!
2. Collaboration
Collaboration involves working together and sharing ideas. In an office, even if our work is primarily autonomous, there are generally opportunities to discuss ideas. These discussions motivate and challenge us.

It is important to have the opportunity to share ideas while working from home. We can ensure this through having a weekly catch-up with another colleague, or team meetings where we share on what we have achieved that week and ask for input.
3. Going deep
'going deep' involves sharing feelings with people we trust. It is essential for our general social and mental wellbeing. Although this level of social interaction is not essential to our work, we do sometimes have a good friend in the office with whom we share. 
When working from home, it is healthy to have the opportunity to 'go deep' with someone (either a family member, friend or trusted work colleague) during our week. This could mean getting out of lunch (if possible) or a phone call or zoom chat.
To conclude, given that remote work is here to stay, let us do it well. Successful remote work should combine the benefits of working from home, with what we used to love about office work. In this way, we might take the best from both worlds!

MeetinVR's take on more successful remote work: We have built a medium which allows you to get the best of both worlds. On one hand, our remote collaboration platform allows people to gain full flexibility and work from anywhere, at any time.  On the other hand, they are still able to maintain the feeling of presence and camaraderie by being together in the same space and sharing the same experience together. Solutions like MeetinVR allow companies to have a healthy remote work culture, increase team cohesion, and maximize collaboration efforts. Get started today.